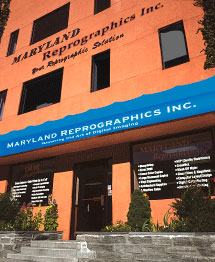 Maryland Reprographics, Inc. (MRI) has been serving the Baltimore & surrounding areas for over thirty years as a premier reprographic and color reproduction facility. The company is city and state certified as a minority (WBE) in Baltimore, Maryland. Owned and operated by Baltimorean Trish Kipe.
The company has humble beginnings which started with a single rebuilt blueprint machine. In the early 90's, MRI expanded to a second location to offer its clients color photography, digital graphic services and a complete finishing facility. Later, both operations were combined to a single 21,000 square foot facility. Today, MRI is a state-of-the-art multimillion dollar operation that is currently managing the plans and spec documents of some of the largest construction projects in Maryland.
MRI is known throughout the AEC community for the fastest and most accurate service in the industry. Our team consists of professionals with over 100 years of reprographic and design experience. Stability within the company makes partnering with us seamless. We use our own drivers and vehicles to ensure your packages arrive on time and in perfect condition!
MRI's partnership with Reproconnect allows us to offer one of the most user-friendly online plan center & file transfer systems in the industry today. This system allows you to view & order plans & specs 24 hours a day, seven days a week as well as offering seamless bid management tools.
These are just some of the reasons Maryland Reprographics, Inc. is the premier reprographic firm in the area. We are the one-stop reprographic shop for architects, engineers, and the construction industry. We look forward to working with you!
Contact us today to assist you in creating the perfect image!